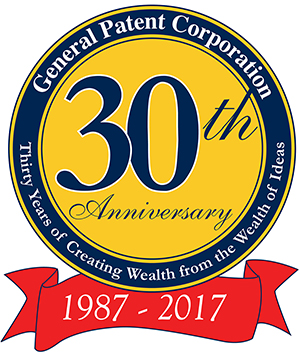 Patent infringement litigation is a risky venture!

If your patent has been infringed, and you are about to enter into a patent infringement lawsuit, you need to know that you are entering into a very risky venture. In addition to being expensive, it is a process that can take years. And you could still go to trial and lose!
Also remember that a patent infringement lawsuit can be a David-versus-Goliath confrontation. Defendants in patent infringement lawsuits are usually large corporations with unlimited resources, while plaintiffs in patent infringement lawsuits are often individuals or small businesses with very limited resources.
Leveling the patent infringement lawsuit playing field
There is a way of dramatically improving your chances of winning your patent infringement lawsuit while at the same time preserving your cash. And maybe your sanity. Smart patent infringement lawsuit plaintiffs partner with a patent enforcement company like General Patent.
And since General Patent is the premier patent enforcement firm, many patent infringement litigation plaintiffs turn to General Patent Corporation. You dramatically improve the chances of winning your patent infringement lawsuit when you bring in a group of specialists who know what they are doing and who have a track record of winning favorable outcomes for their clients.
Your patent infringement lawsuit champion

General Patent examines your patent infringement claim, and if we believe you have a winnable case, we offer to manage the prosecution of your patent infringement lawsuit. We initially try to negotiate a settlement to avoid the time and cost of prolonged patent litigation, but if we cannot, we find the best law firm to try the case, we do all the research that is necessary to win the case, and we arrange for expert witnesses and anything else that will create the strongest possible case.
Best of all, General Patent bears all the costs. The entire process costs you, the patent infringement lawsuit plaintiff, nothing. General Patent only earns a fee if and when we reach a successful outcome on your behalf!
A patent infringement lawsuit can have several outcomes
There are several possible outcomes to a patent infringement lawsuit, but the best outcome – and the one we always strive for first – is to reach a negotiated settlement.
• Negotiated Settlement: We have been successful on behalf of many patent infringement lawsuit plaintiffs in negotiating a licensing arrangement under which the patent infringement defendant pays a royalty to the patent owner, creating an ongoing income stream for our client. We are also often able to secure retroactive payments for prior use of the patent.
• Mediation: We sometimes bring in a mediator to facilitate negotiations with the plaintiff. By aggressively pursuing the patent infringement lawsuit, we put ourselves in the position of negotiation from strength, and that can often result in a lucrative settlement for our client. Mediation can also result in a faster settlement, and negotiated settlements cannot be appealed by the defendant.
• Victory at Trial: It may be necessary to maintain an even more aggressive stance and go to trial. However, for most of our clients, General Patent has been able to reach a negotiated settlement and avoid the time and extra costs of a trial.
Paid only for patent infringement lawsuit results

Despite the fact that General Patent invests considerable manpower and cash in your patent infringement lawsuit, General Patent only gets paid if and when we produce a successful outcome – a negotiated settlement or victory after a trial. And rather than a fixed fee, we split the proceeds of whatever settlement we manage to produce for our clients. The better a settlement we produce for you, the better the outcome for both the client and General Patent.
Admirable patent infringement lawsuit record

How has General Patent done over the last 20 years helping clients pursue their patent infringement lawsuits? We have made money for every client we had represented over the years. That's why so many patent holders sign on with General Patent to prosecute their patent infringement lawsuits.
Next step in the patent infringement lawsuit process

Complete a proposal request. It costs nothing and it puts you under no obligation. You can then decide if you want General Patent to champion your patent infringement lawsuit!