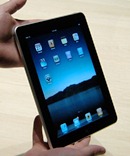 And Enter a Drawing to Win an iPad
General Patent is conducting our first-ever survey of the intellectual property community. And one lucky survey participant will win an Apple iPad!
The input from the survey will help us to better address the IP issues that concern the inventors, businesses, universities and others we serve, and it will give us direct input into the thinking of the IP community regarding the key issues it faces, such as the America Invents Act patent legislation currently before Congress.
It will take just a few minutes to complete the 18-question, multiple-choice survey, and we will publish the results in the September issue of our Wealth of Ideas newsletter.
After completing the survey, you can register for the drawing for an iPad (or opt out of the drawing). Click here to participate in the survey.